Kicking off this Friday, September 13 as part of the 2nd Friday Art Walk, Chapel Hill Public Library, in collaboration with Community Arts & Culture, will open a Banned Books Art Pop-Up Gallery at Gallery 109 on East Franklin St. in Downtown Chapel Hill. Starting at 6 p.m., celebrate local art and the freedom to read with refreshments and fellow enthusiasts.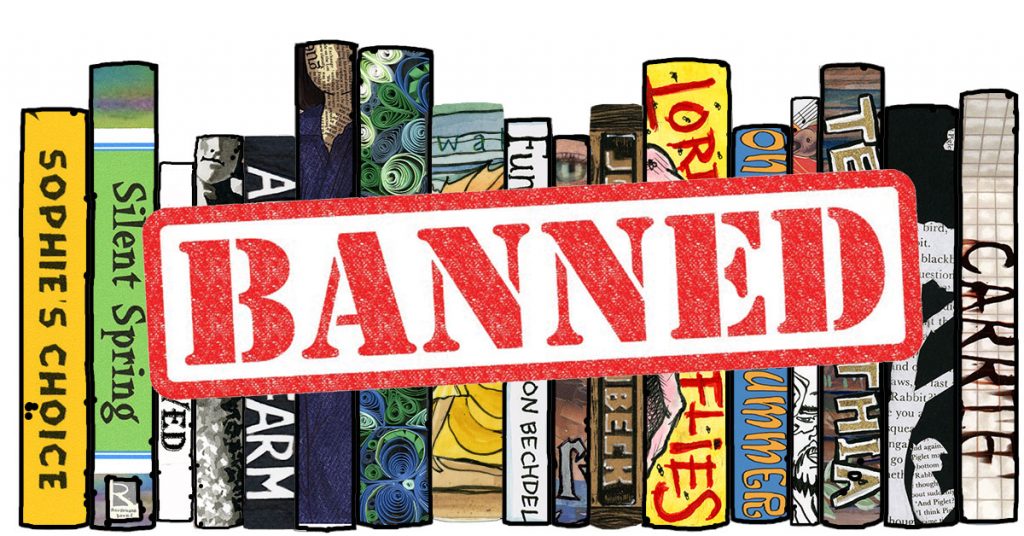 For the past six years, Chapel Hill Public Library has been celebrating the freedom to read by putting out a call for artists to submit original works inspired by books which have been challenged, censored or banned. Seven of the submitted works are then selected by a jury to receive a cash prize and become collectable trading cards.
This year, a pop-up gallery featuring a retrospective of all six years of the winning art pieces will be on display at the Gallery 109 space, a vacant storefront in downtown Chapel Hill which was converted into an art studio this summer.
Roughly 50 pieces of local art inspired by banned books will be on display at Gallery 109 on East Franklin Street kicking off this Friday evening through September 29 with varying hours. Collect your Banned Books Trading Cards, become inspired by artistic depiction, and celebrate the freedom to read kicking off Friday, September 13 at the Banned Books Pop-Up Gallery in downtown Chapel Hill.
Also, all are invited to join us for a special after-hours event on Friday, September 20 as we exhibit all of the entries in the 2019 project. Meet the artists, be the first to see the trading cards, and enjoy complimentary refreshments. More details are available here.
September 13, 2019




6:00 pm - 9:00 pm