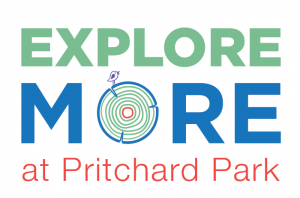 Volunteer to do science that will make a lasting impact! Crowd-sourced science is when regular, non-professional scientists work together on research projects.
Want to keep up with all of the citizen science at the library? Sign up here.
Caterpillars Count! is a citizen science project we're doing over the course of the spring and summer. We need your help to measure the seasonal variation and abundance of arthropods like caterpillars, beetles, and spiders found on the foliage of trees and shrubs in Pritchard Park
Join us for one or all of the counting expeditions that you can. Each week in May and June we'll meet near the animal sculptures behind the library and head out into the park. Each session will take 30 minutes to an hour.
This is a project that's great for individuals who are looking to do what they can to understand how climate change has an impact on our world. Families are welcome, too, if the kids are 8 or older
Learn from an experienced North Carolina environmental educator how to collect and report data. You can apply what you learn in your own backyard (or know that you contributed to ongoing science without a big time commitment)
Your work will be used by researchers to track how trends in arthropod populations relate to bird population trends in those same areas.
Come Explore More!
Caterpillar's Count is part of the Pheno Mismatch project funded by the National Science Foundation. 
October 19, 2017




4:00 pm - 7:00 pm


- WeDigBio is an international event that brings thousands of people together to digitize and preserve important biological research collections.
Drop in any time between 4:00 and 7:00. You can see specimens from the NC Museum of Natural Sciences and learn about how digitizing their records will help future research.
Citizen Scientists can get involved, transcribing records about amphibians and reptiles from as far back as the 1800s.
In the computer lab on the lower level.
Caterpillars


May 15, 2018




9:15 am - 12:15 pm

Caterpillars


May 22, 2018




9:15 am - 12:15 pm

Caterpillars


May 29, 2018




9:15 am - 12:15 pm

Caterpillars


June 5, 2018




9:15 am - 12:15 pm

Caterpillars


June 12, 2018




9:15 am - 12:15 pm

Caterpillars


June 19, 2018




9:15 am - 12:15 pm

Caterpillars


June 26, 2018




9:15 am - 12:15 pm