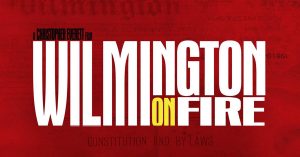 Film Screening: Wilmington On Fire
In 1898, a years-long white supremacists' campaign targeting Wilmington culminated in the murder of dozens of African American citizens and the violent overthrow of the democratically elected city government. Join us for a documentary screening & discussion of this painful history and how it still affects our state today.
Featuring historians Freddie Parker (NCCU), David Cecelski, & LeRae Umfleet (NC Dept. of Natural & Cultural Resources), and Filmmaker Chris Everett.
Moderated by James Williams (Orange County Community Remembrance Coalition).
Meeting Room B
Sponsored by Carolina Public Humanities, Carolina K-12, the Orange County Community Remembrance Coalition, and Chapel Hill Public Library.
Being Mortal


April 19, 2017




6:00 pm - 8:00 pm

Wilmington On Fire


January 16, 2020




6:00 pm - 8:30 pm

The Life of Bayard Rustin


June 23, 2019




3:00 pm - 5:00 pm