With knowledge of just a few simple chords and strums a ukulele can bring a lifetime of musical enjoyment. The focus of this series is on developing skill at playing simple songs, with skills that can be applied to playing in the future. Note that this is a highly interactive, hands-on learning experience.
This is a hands-on musical learning experience for adults who are beginning to learn how to play the ukulele. Bring your own instrument (or borrow one).Registration is required and we ask that you attend each session.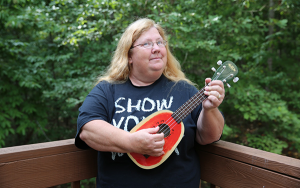 Jane Bozarth will lead all three sessions. Jane is the founding member of Gang of Ukes. Jane offers a "Music and the Brain" session every year for the eLearning Guild's DevLearn Conference in Las Vegas. She has more than 25 years of experience as a Training Director and Instructional Designer in North Carolina.
Scandimonium


May 21, 2017




12:00 pm - 1:30 pm


- Local musicians play traditional Scandinavian and modern Nordic music on fiddles, mandolin, hammered dulcimer, concertina, clarinet, cello, keyboards and light percussion. Many of Scandimonium's songs are dance tunes and gentle waltzes that originated hundreds of years ago.
Meeting Room A
Uke Can Do It!


November 12, 2018




6:30 pm - 8:00 pm


- Session 1: Learn how to tune a ukulele, how to read a chord diagram, and how to play the chords for simple songs.
Meeting Room B
Uke Can Do It!


November 19, 2018




6:30 pm - 8:00 pm


- Session 2: Learn how to play more chords and strums and practice singing and playing at the same time.
Meeting Room B
Uke Can Do It!


November 26, 2018




6:30 pm - 8:00 pm


- Session 3: Learn even more chords and alternatives to challenging chords. Get tips to build your confidence playing in a group and how to continue learning the ukulele on your own.
Meeting Room B
We're sorry, but all tickets sales have ended because the event is expired.