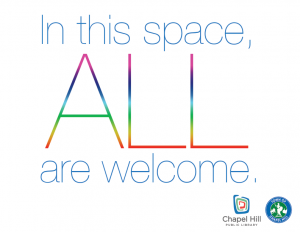 Chapel Hill Public Library, UNC Chapel Hill Lambda Law Students Association, Stem Pride of the Triangle, and Equality NC are offering this free clinic to transgender individuals and others seeking help in changing their legal names.
Meet law students and licensed attorneys to get info on changing name and sex on documents like drivers' licenses, passports, birth certificates, and other identity documents and public records.
 Also available will be info on other organizations that can provide quality legal services (*Equality NC does not provide legal services or legal advice).
For more information, please contact Graham Whittington, Pro-Bono Chair gwhitt@live.unc.edu
Free lunch available
Meeting Room B
March 21, 2020




1:00 pm - 4:00 pm