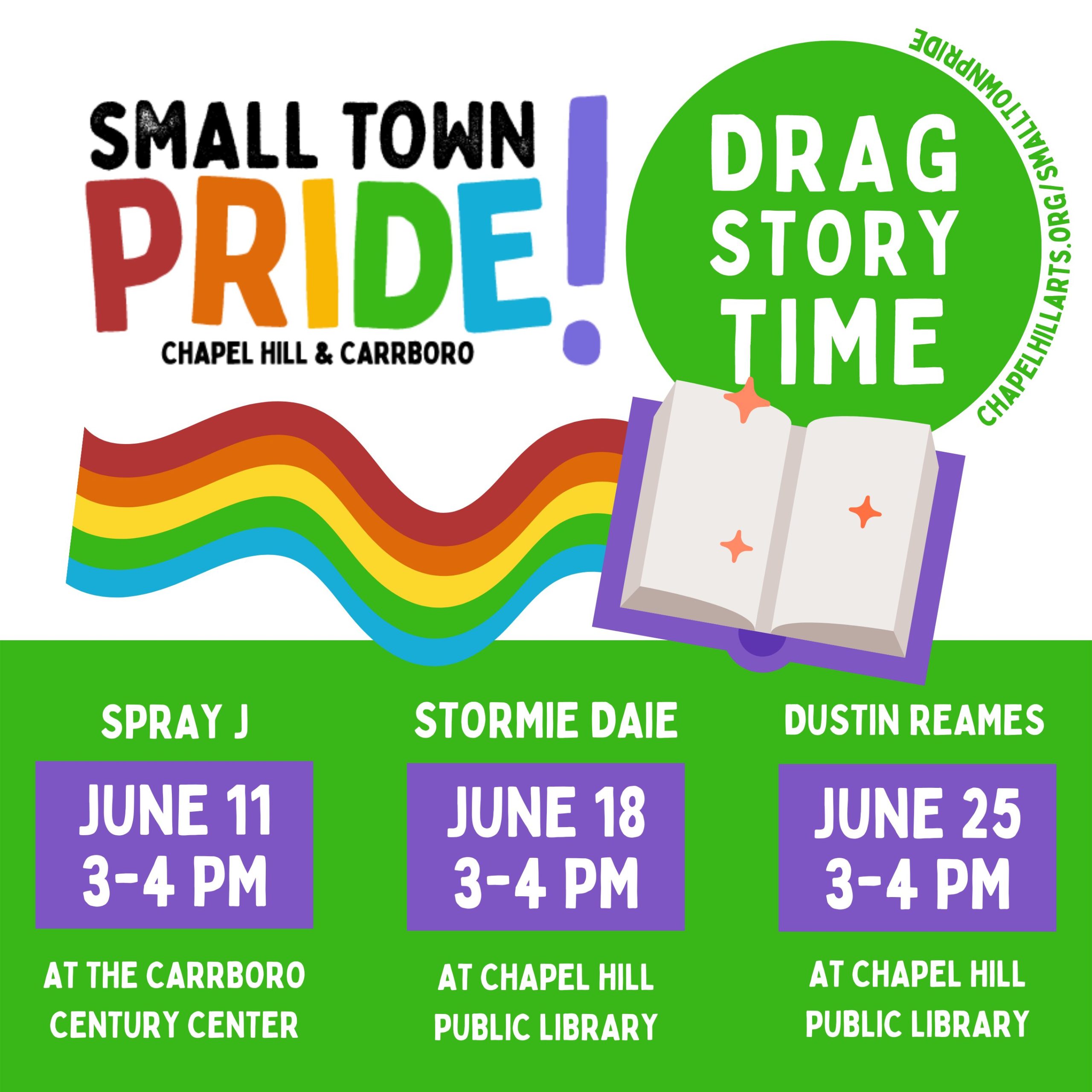 Bring your kids to enjoy a fabulous hour of storytime by some of the most prominent Drag royalty in the Triangle. Drag Story Time celebrates glamour, imagination, play, and gender fluidity while providing positive queer role models. This event is a part of Small Town Pride, a collaboration between the Town of Chapel Hill and the Town of Carrboro. Click here to learn more and see the whole Small Town Pride lineup.
June 11 – Stories with Spray J at the Carrboro Century Center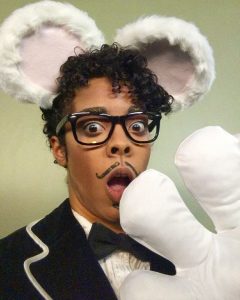 About Spray J (Dr. Sarah Wilson)
Spray J is everyone's favorite Southern drag king with a Ph.D. He is known for his engaging and family-friendly fun. Spray J is the proud parent of a vivacious toddler, and is excited for you to join in the fun this Pride Month — whether you are a kid or a kid at heart!
June 18 – Stories with Stormie Daie at Chapel Hill Public Library
About Stormie Daie (Raafe Purnsley)
Stormie Daie, first of her name, 4th of Durham's finest and first drag family, The House of Coxx, is a torrential force of energy, education, and entertainment. Whether a whirling wind of sequin on stage, a merry madam of mirth behind the mic, or a science and history educator always sharing the importance of our natural world and queer ancestors. Stormie is a queen for community first and a good time always!
June 25 – Stories with Dustin Reams at Chapel Hill Public Library
About Dustin Reams (Natalie Watson)
Dustin Reams, local Durham Drag King, has been performing since 2018.  He loves to perform old school R&B then switch it up and sing rock or country.  He likes high energy songs that make the crowd jump and dance and then will slow it down to share a nice chill moment with the crowd.  From childhood on, Dustin has always loved to read and is always excited to share his craft through song, dance, and books.
Stormie Daie at Chapel Hill Public Library


June 18, 2022




3:00 pm - 4:00 pm


- Meeting Room B
Spray J at Carrboro Century Center


June 11, 2022




3:00 pm - 4:00 pm


- At the Cybrary in the Carrboro Century Center
Dustin Reames at Chapel Hill Public Library


June 25, 2022




3:00 pm - 4:00 pm


- Meeting Room B