Banned Books
Banned Books Week is an annual, national celebration of your freedom to read. Chapel Hill Public Library, in partnership with the Division of Cultural Arts, celebrates by asking local artists to create original works of art inspired by a banned book or author whose work has been challenged.
Each piece represents the ongoing struggle for intellectual freedom and the dangers of censorship.
Support the project by purchasing collector's sets from previous years through our Friend's of CHPL website.
Get past sets here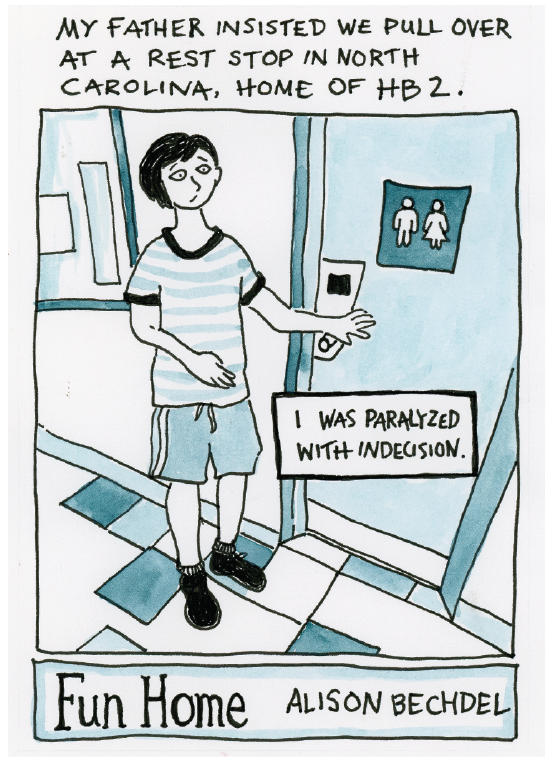 by Libby Fosso
Book:
Fun Home
 by Alison Bechdel
Reason for Banning: Both public libraries and college campuses have seen challenges to this award-winning graphic novel. In 2015, Freshmen at Duke University refused to read it, citing moral or religious objections to its LGBT themes and "pornographic" art.
Artist: Libby Fosso
Artists's Statement: The image is not an explicit statement on transgender issues, but more a general commentary on the sexual angst that Bechdel explores and the discomfort caused by North Carolina's House Bill 2. When we box people in with labels and signs we question our very identity.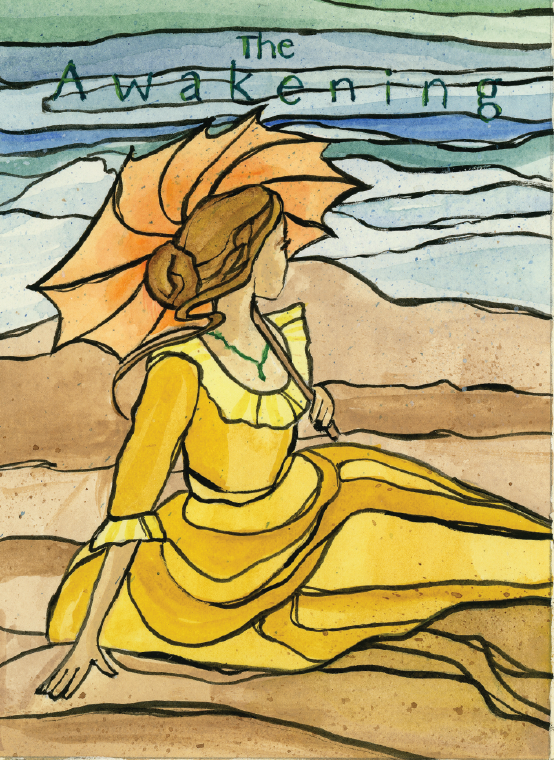 by Heather Jolley Smith
Book:
The Awakening
by Kate Chopin
Reason for Banning: Upon its publication, Chopin's novel exploring female sexuality and self-fulfillment was almost universally condemned as "morbid, vulgar, disagreeable, and scandalous." Now hailed as a feminist classic, it still faces challenges to its content and cover art.
Artist: Heather Jolley Smith
Artists's Statement: In 2016, it's hard to fathom how in 1899 any woman's self-knowledge was considered scandalous. I depicted Edna as constrained by her corset and parasol, gazing longingly at the ocean where she finds bother her first taste of freedom and subsequent demise.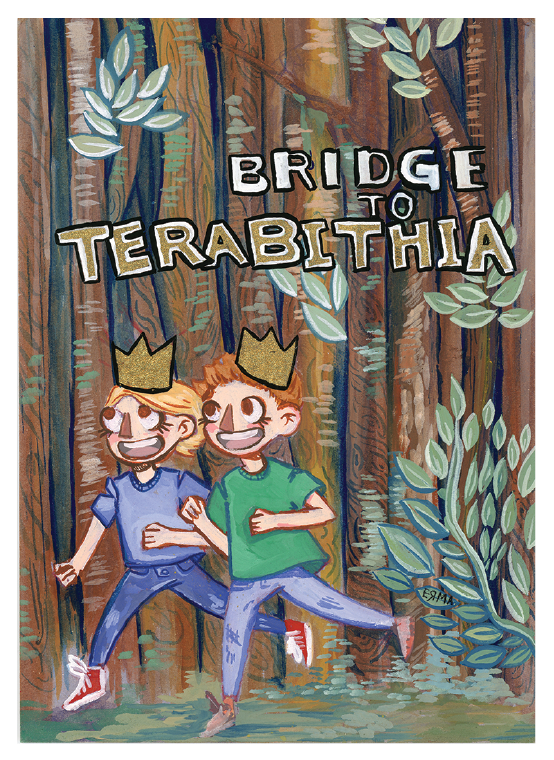 by Emma Richardson
Book:
Bridge to Terabithia
 by Katherine Paterson
Reason for Banning: This 1978 Newbery Award winner is among the most challenged books in the United States. Challengers claim that it contains offensive language, occult subject matter, and deals with the "adult" theme of death.
Artist: Emma Richardson
Artists's Statement: Jesse Aarons and Leslie Burke are the rulers of Terabithia. I showed them running through their land with Leslie running in front of Jesse because she is the fastest running in the 5th grade, which is in part how they become friends.
"Every burned book enlightens the world."
Ralph Waldo Emerson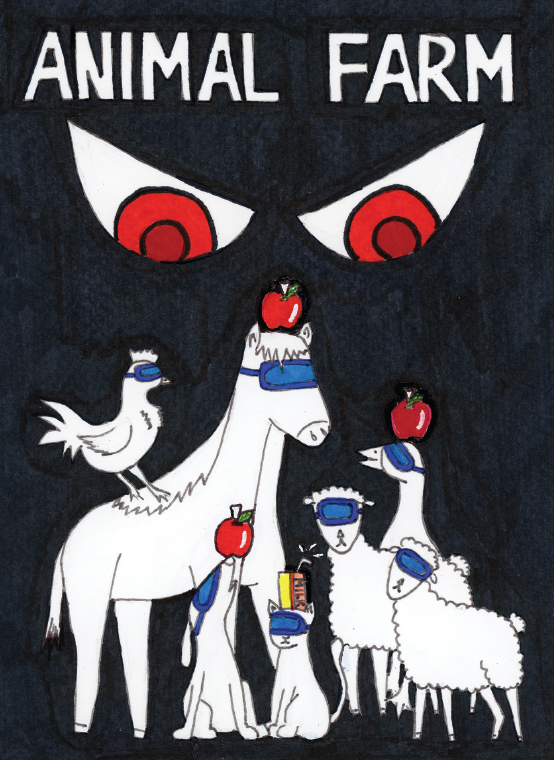 by Tanasha Lertjanyarak
Book:
Animal Farm
 by  George Orwell
Reason for Banning: Orwell's novella has the distinction of being on most high school curricula but is also frequently challenged for its political themes. The 1954 animated adaptation of the novel was funded by the CIA and features an ending very different from the book.
Artist: Robert Votta
Artists's Statement: Animal Farm is a political novel. The big eyes represent the dictator's all-encompassing vision. The animals wear masks to show ignorance. Apples and milk signify the nation's wealth which is unavailable to the mindless animals.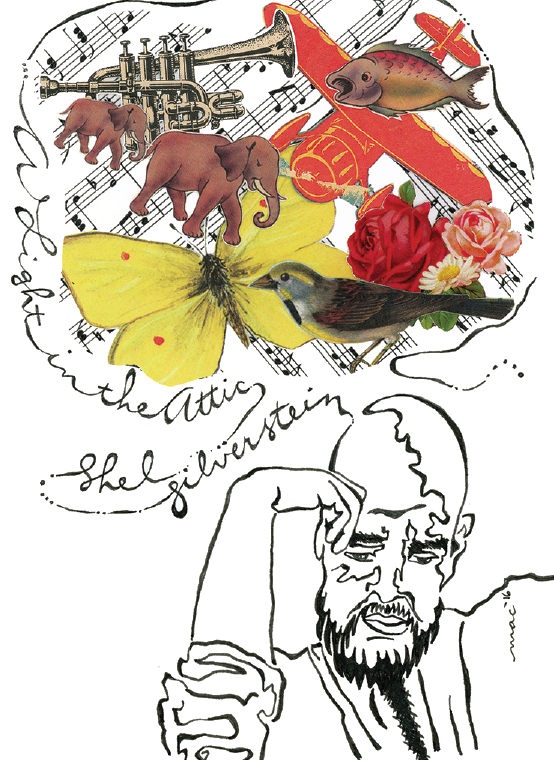 by Molly Cassidy
Book:
A Light in the Attic
 by Shel Silverstein
Reason for Banning: This popular collection was challenged by parents concerned that the poem How Not to Have to Dry the Dishes encouraged children to "break dishes so they don't have to dry them." Other challenges claim the book "glorified Satan, suicide, and cannibalism."
Artist: Molly Cassidy
Artists's Statement: I wanted to depict what I feel was Silverstein's approach to life: hopeful, irreverent, joyous. While indulging in my own artistic style for the representation of his thoughts, the rendition of the author is a nod to Silverstein's own illustrative style.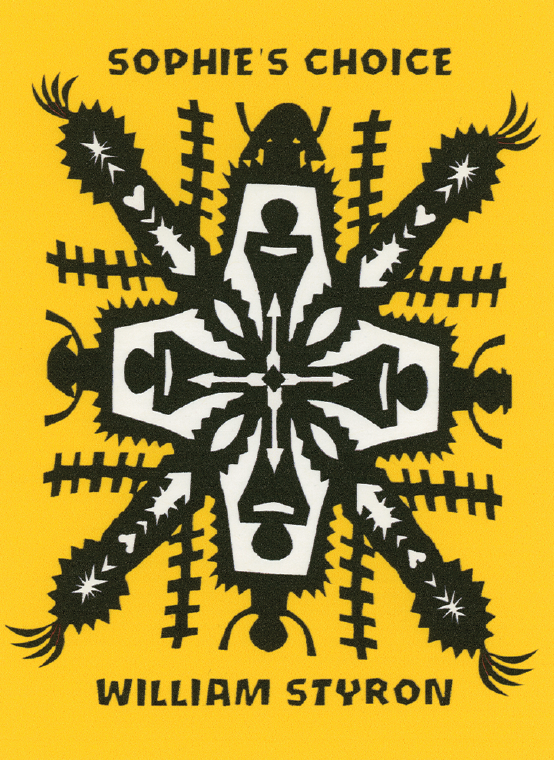 by Amy Trojanowski
Book:
Sophie's Choice
 by William Styron
Reason for Banning: TThe National Book Award winner was censored in the Soviet Union. In Poland, its "unflinching portrait of Polish anti-Semitism" led to challenges. It was pulled and subsequently restored to shelves at United States high schools after complaints about sexual content.
Artist: Amy Trojanowski
Artists's Statement: The basis for this design is a Polish papercutting technique known as wycinanki. Sophie, on top, faces a stark choice at Auschwitx (indicated by the railroad tracks) between her daughter, left, and her son, right. Arrows and hearts represent the directions in which she was torn, then and now.
If every individual with an agenda had his/her way, the shelves in the school library would be close to empty.Judy Blume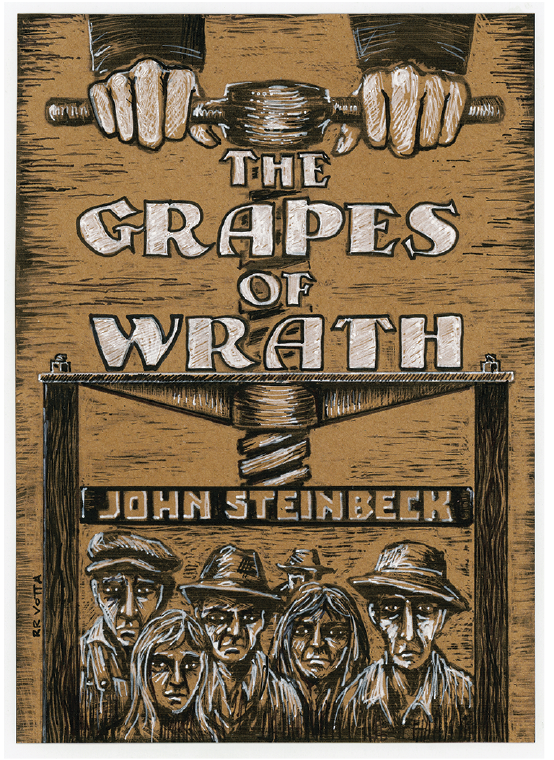 by Robert Votta
Book:
Grapes of Wrath
 by John Steinbeck
Reason for Banning: Condemned as "filth" and "communist propaganda," this novel has at times been banned and even burned in several countries including the US, Canada, Ireland, Turkey, and the former USSR. It is still challenged in the United States for "vulgar language."
Artist: Robert Votta
Artists's Statement: This novel won the 1939 Pulitzer Prize for fiction, yet school boards and libraries banned the book in many localities for being "un-American" or "communistic." In the great winepress, the workers are the grapes being crushed by the large, powerful hands of the corporate farm owners.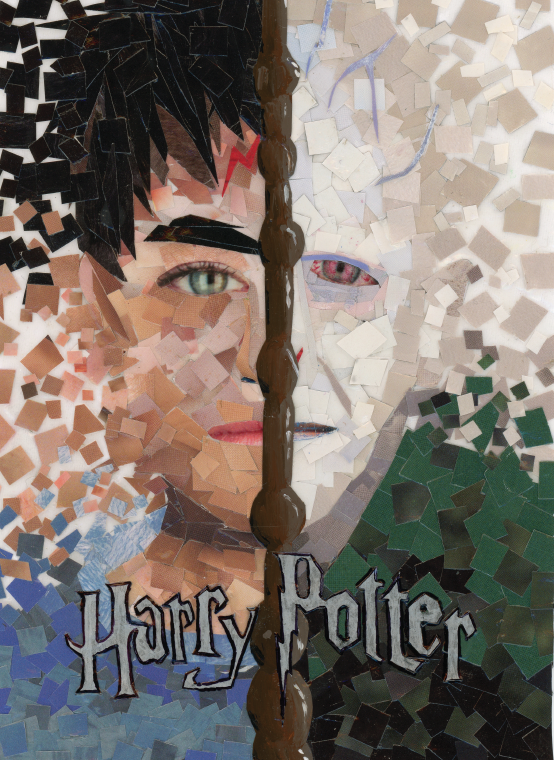 by Lizzie Kuhlman
Book:
Harry Potter
 series by J.K. Rowling
Reason for Banning: J.K. Rowling's popular series has often been challenged for its violene and magical content that "glorifies Satan." Some parents have also cited concerns that Harry often "lies, breaks rules, and disobeys authority figures, including professors at Hogwarts."
Artist: Lizzy Kuhlman
Artists's Statement: This image shows how Harry and his nemesis Voldemort have shocking similarities and yet are completely different. The two faces are separated with a wand, which also represents the magic that is why the series is so often banned.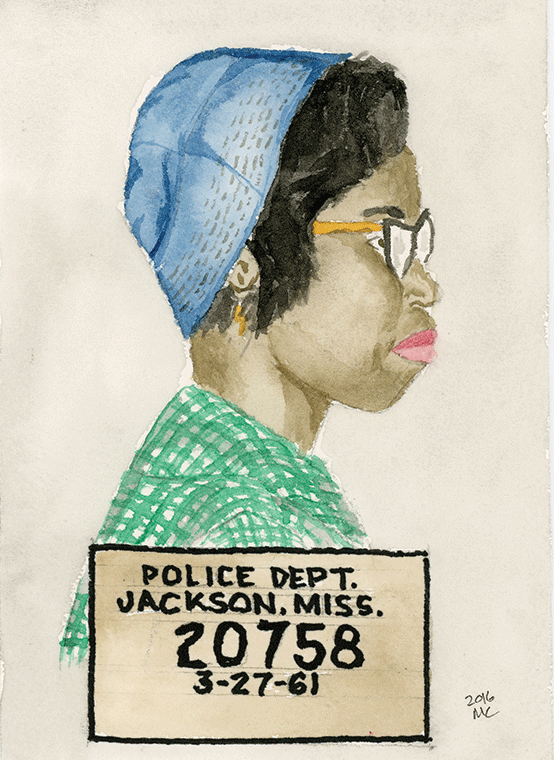 by Michael Crowell
The Jury Prize is a first for the Banned Books Trading Cards Project. The jury respects both the artistry and the message, yet felt the work fell outside the scope of the Call For Artists.
Chapel Hill-based artist Michael Crowell wrote this statement:
"People have been banned from libraries as well as books. Geraldine Edwards was one of nine African American Tougaloo College students arrested at the white public library in Jackson, Mississippi on March 27, 1961, for attempting to read books that could not be found at the "colored" library. Ms. Edwards, now Geraldine Edwards-Hollis, has written a book about her experience, Back to Mississippi (Xlibris Corporation, 2011).
Click here for an interview with Geraldine Edwards-Hollis talking about the sit-in.
Want to celebrate the freedom to read, support local art, and make sure the project continues? You can buy past years sets from our Friends.