All programs and events are cancelled from 5:00 on Wednesday, Sept. 12 through Sunday, Sept. 16.
Dear Chapel Hill,
As expected, our Path to Re-opening has been a long and winding road. I'm writing to share an update on where we are and what's ahead.
The biggest news is that we are bringing Wednesday hours back! Starting December 15th, we'll be open from 10 am – 6 pm on Wednesdays. This will bring us back to our pre-COVID service level of 7 days per week, while still short of our pre-COVID service level of 69 hours per week. In 2022, we'll look to bring back more hours of service, based on community needs and interests.
We've brought back some other services as well. Tables and chairs for working and studying have returned to both levels. Comfy seating has returned as well – as have magazines and newspapers. Pandemic disruptions mean that there are some days when some papers aren't delivered and our print magazine collection is a bit smaller, but seeing folks back in this area every morning is truly a sign that the "universe is healing."
There are some services that we've not yet brought back, including study rooms, meeting rooms, and lobby furniture. The Teen Room is open for browsing, but not for group hang outs. We are offering limited virtual and outdoor programs, but no indoor/in person programs. We hope to return all of these services in the first quarter of 2022.
On behalf of the Library team, I want to thank you for your patience and understanding as we've followed our path. Throughout all that 2020 and 2021 have thrown at us, we've endeavored to deliver on our Service Pledge of friendly, helpful, responsive, and engaged service.
If you have questions or concerns, please feel free to call me at 919-969-2034 or email me.
Sincerely,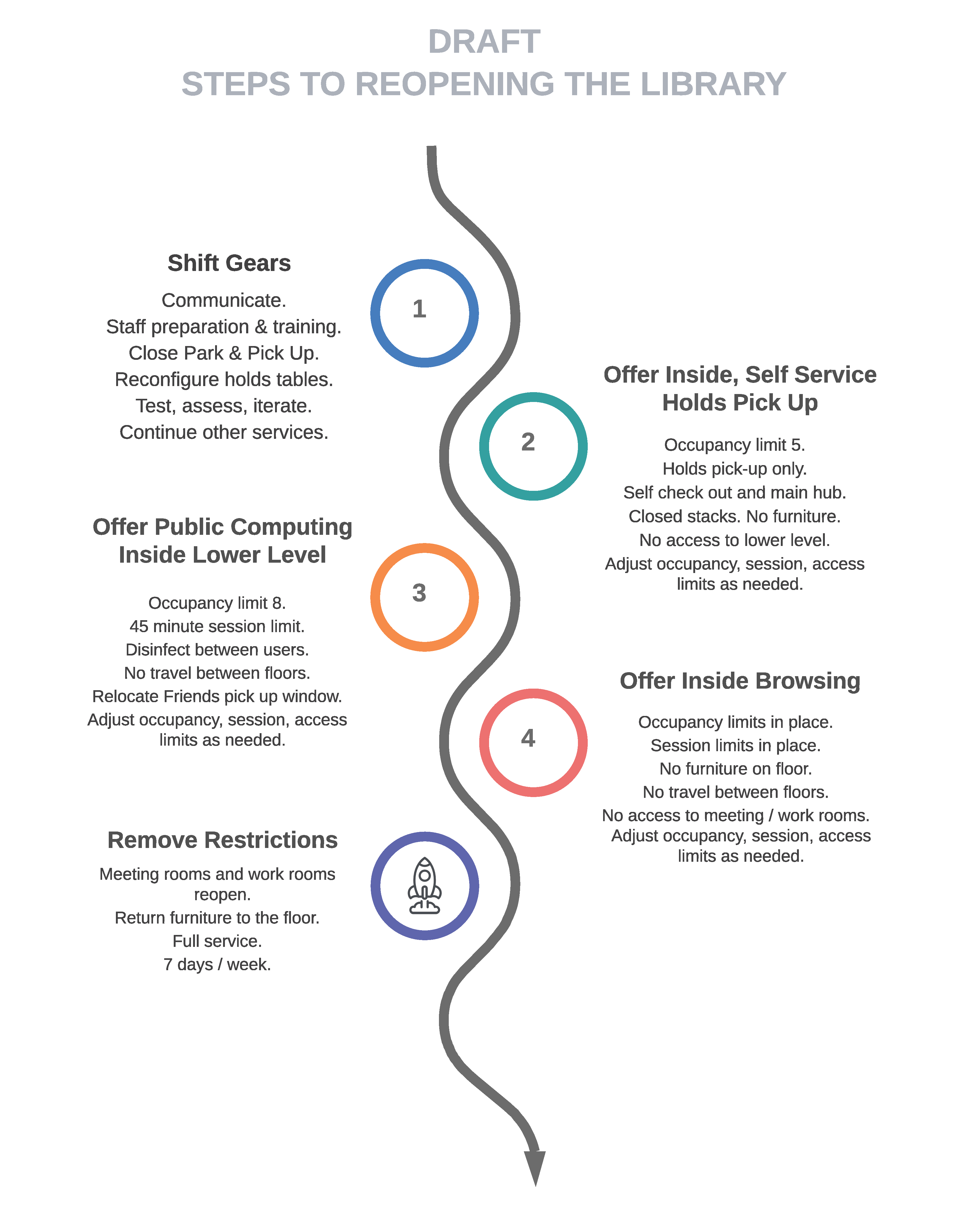 ---
Letters from the Director